UHF and UHF-DIGITAL mobile radio
IDAS™ Takes You To a New Level of "Smart"
Now with the new generation of IDAS, Icom takes you to a new level of "smart". The new IDAS series sports an updated look and design. Its plethora of functions and the attention to hardware details only Icom can provide brings you a solution that makes you look smart and work smart too.
Refinements and enhancements to design, usability and features – combined with the electrical and industrial hardware improvements – further the total reliability of the new IDAS series. This reliability ranges from the "zero Color LCD and improved User Interface
high-resolution color LCD and new user interface is adopted. The color LCD enhances the visibility both in natural and indoor lighting, with the night mode LCD setting as an alternative for use in night time or low lighting conditions. Functions can be easily set by following easy to understand icons and menu items.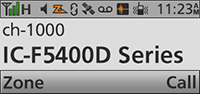 Day Mode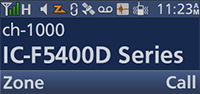 Night Mode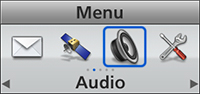 menu items
Multiple Languages
Functions and menu items can be programmed in a language other than English. Cyrillic and Simplified Chinese fonts are supported
License Key Upgrade
Necessary functions such as trunking capability, channel capacity, AES encryption and other functions can be added with license key options. The IDAS radios can be upgraded and customized to meet your specific needs.
Trunking (NXDN Type-D or dPMR Mode 3)
IDAS trunking can bind multiple channels and effectively share the limited number of channels with a large number of users.
* License key (ISL-UGMTR for NXDN Type-D or ISL-UGMD3 for dPMR Mode 3) required.
AES/DES Encryption with Over-the-Air-Rekeying (OTAR)
For digital communication security, the IDAS radio provides basic 4-key DES encryption as standard and upgraded to 64-key DES with the optional UT-134. When used with the optional UT-134 and license key (ISL-AKAES), the AES encryption with the OTAR function are available. The OTAR function* allows updating of encryption keys over the radio channel.
* A microSD card is required separately. The OTAR manager software (CS-OTAR1) is required.
OTAP and OAA
The OTAP function allows you to distribute a radio configuration file over-the-air to update the IDAS radios. Save considerable time with no need to return the radio for reprogramming.
* OTAP manager software (CS-OTPM1) is required.
The OAA function sends own alias name with a call to receivers and automatically shows the callers name on the receivers display. It eliminates the need to program the call list to each radio, when a new radio is entered or existing radio is passed to another person.
Hands-Free Operation with Bluetooth® Headset
The built-in Bluetooth® module provides remote operation and hands-free communication paired with a third-party headset*.
*Available functions depend on paired Bluetooth® devices. Icom does not guarantee all functions and performance of the Bluetooth® headset.
Digital Voice Recording
The IDAS radio can record incoming and outgoing calls, and the user can check recorded communications just in case. When a 32 GB microSD* card is used, a Max. 500 hours of recording is possible.
* A microSD card is required separately.
Power OFF Emergency
The Power OFF emergency sends an emergency signal even though the radio appears to be powered OFF.
Transparent Data
The IDAS radio can be used as a transparent data modem which transmits various data up to 3600 bps over the radio channel. The NXDN 12.5 kHz digital mode doubles the data speed.
Active Noise Canceller
The active noise canceller assists in providing clear audio, while suppressing background noise. The function improves both your transmitted voice and incoming call. The radio user does not need to shout into the microphone even under extremely noisy environment
Audio Equalizer Effect
The audio equalizer allows you to tailor the audio tone to optimize voice quality in various use environments.
Audio compander
Beat cancel
Built-in GPS Receiver
The position data can be sent with voice call or status call and can be used with a third-party AVL (Automatic Vehicle Location) system. The GPS log functions logs user position data at regular intervals.
* An optional GPS antenna UX-241 is required.
USB Port for PC Connection
The IDAS radio can be connected to a PC through a USB port for programming radios and accessing the installed microSD card in mass storage mode.
Horn, dimmer, external PTT programmable through D-SUB 25-pin connector
Serial communication interface with Bluetooth® for wireless connection
Radio programming through a microSD card
Voice Announcement
The new IDAS radios can notify channel number, zone and channel type with voice announcement. This function is convenient for making radio adjustments without having to look at the radio. Voice announcements can be replaced with customized messages.
Messages of up to 100 characters
Status message
Normal, priority and voting scan
Internal clock
Multiple Controller Configurations*
With a combination with optional separation kits, COMMANDMIC and separation cables, three types of controller configurations are available to suit almost any application or installation that may be required. The intercom function is available between controllers and/or COMMANDMIC.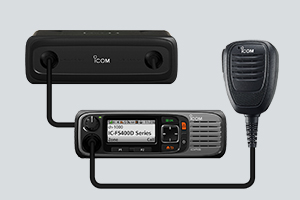 a)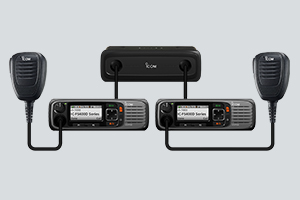 b)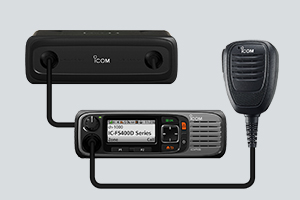 c)
a) Detached Controller*
A detached controller head with the separated RF unit is a simple to install in almost any vehicle.
b) Dual Head Controller*
Suitable for double cab vehicles. Install the controller head to front and rear seats respectively.
c) COMMANDMIC™ and Detached Controller*
The COMMANDMIC is handy for installing a work platform on the rear part of the vehicle.
* Detached Controller, Dual head and COMMANDMIC configurations are for IC-F5400D/F5400DP, IC-F6400D/F6400DP only
General features
Frequency ranges: 136-174 MHz, 380-470 MHz ¦ 1024 memory channels in 128 zones ¦ IP55 dust and splash resistant ¦ Stable construction complies with MIL standards ¦ 25-pin Sub-D accessory connector with programmable functions ¦ Built-in 20W LF Amplifier for connecting an external megaphone ¦ VOX function (Voice Operated transmission) ¦ Internal clock ¦ Fast search for voting and multi-site operation ¦ Tactical group function for the temporary splitting of user groups ¦ Normal, priority and voting search
IDAS™-Features
IDAS Conventional and Multi Site Conventional ¦ Type D Single Site Trunking and Multi Site Trunking * ¦ 6.25kHz and 12.5kHz Channel Gap ¦ Analog / Digital Conventional Mixed Mode Operation ¦ Status Message ¦ Text Message ¦ Call Alert ¦ Radio Check ¦ Radio Stun / Revive / Kill ¦ Remote Monitor
* License upgrade for Type-D multi-site trunking possible.
Analog-FM-Features
2-Ton-, 5-Ton-Signalisierung, CTCSS und DTCS eingebaut ¦ DTMF-Automatikwahl und DTMF-Decoder ¦ MDC-1200-kompatibel ¦ BIIS-1200-kompatibel ¦ Basic LTR™-Trunking ¦ Audio-Compander ¦ Eingebauter Sprachinverter
Technical specifications
Supplied accessories
Handheld microphone HM-221 | Power supply cable | Mounting Kit | microphone hanger
Optional accessories 
HM-220 – Robust handheld microphone (IP54)
HM-220T – Robust handheld microphone with DTMF keyboard (IP54)
HM-221 – Hand Microphone (IP55)
HM-221T – DTMF microphone (IP55)
SM-29 – able microphone
SP-30 – External loudspeaker, loadable up to 20W
SP-35 – External speaker (2 m cable)
SP-35L – external speaker (6 m cable)
RMK-5 – SInstallation Kit with Remote Control Panel (IC-F5400D / F6400D only)
RMK-7 – Dual separation kit consisting of separation kit and second control panel for configurations with two separate control panels (only for IC-F5400D / F6400D)
HM-218 – COMMANDMIC ™; second remote microphone for RMK-5 (only for IC-F5400D / F6400D)
Separation cable for RMK-5 or RMK-7
OPC-2364 (1.9 m length)
OPC-2365 (3 m length)
OPC-2366 (5 m length)
OPC-2367 (8 m length)
Separation cable for COMMANDMIC ™ HM-218
(A separation cable is required for use with remote keypad or COMMANDMIC ™.)
OPC-2373 (1.9 m length)
OPC-2374 (8 m length)
adjustment", non-variance production quality of every radio made to a new and stress-free user experience that masks the real complexity behind this multi-protocol platform.
Icom's product quality is legendary. Look smart and work smart with the new IDAS series. Using is believing.
Sotto-Categorie

Civili

Mpn

IC-F6400D

Tipo

Civili

Marca compatibile

Generico
Potrebbe anche piacerti
Accessori per la stazione
ICOM
SM29
Accessori per la stazione
ICOM
OPC2363
Ricetrasmettitori
ICOM
ICF5400DS
16 altri prodotti della stessa categoria: